Blog Home
Beating the Summer Heat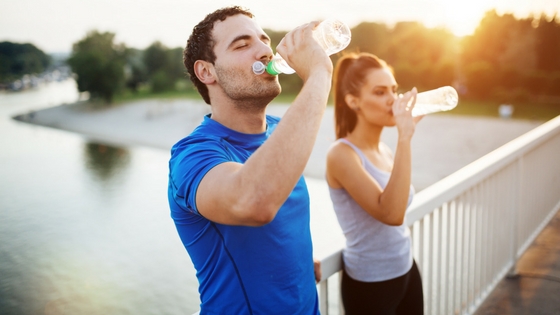 It's August, which means that temperatures are still rather warm here in Dallas, Texas. We understand that, and so today the LBJ Station Blog has rounded up some tips for members of our apartment community to review before they head outside. Chances are you're following most of these already, but there may be some new ideas you may not have thought of before, too.
Drink water. This is, of course, basic common sense, but it bears repeating. Drinking water is one of the simplest ways to keep your core temperature where it's supposed to be. Drink enough water to avoid getting thirsty and stay hydrated. Use a refillable water bottle and keep it with you. For a change up, try infusing your water with fruit, or even cucumber.
Dress for coolness. Choose loose-fitting, light-colored, lightweight clothing to assist with your endeavors to stay cool. Natural fabrics that breathe let the heat out; think cotton and linen, and stay away from synthetics which trap heat and sweat.
Wear a hat. It's amazing what a little shade can do, and a hat or an umbrella is a good way to keep the sun's rays away. No need to get a sunburn, so use sunscreen in conjunction with a hat and sunglasses to shield your eyes.
Eat light. Avoid heavy foods and opt for foods high in water content — fruits, salads, and soups are all good ideas.
Stay indoors. Try to stay inside, especially at midday. The sun is its hottest between noon and about 4:00 p.m. plan indoor activities for this time frame whenever possible. Have lunch, take a nap, go to a matinee movie, head to the library, go shopping. . . indoors.
What are your favorite ways to stay cool in the Dallas sun? Please share in the comments, we will take all the help for staying cool that we can.