Blog Home
Laundry Day Tips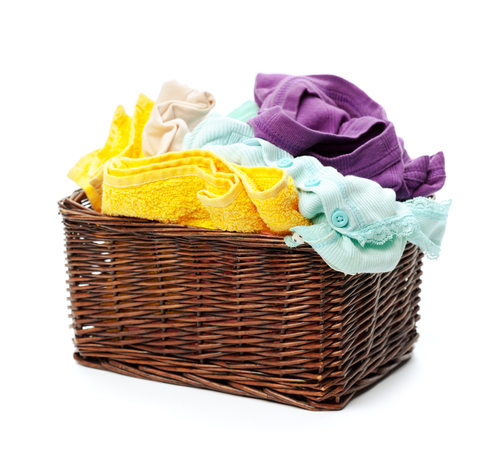 At LBJ Station Ltd. we are pleased to provide a wonderful array of amenities for our apartment community, including in-apartment full-size washers and dryers. Gone are the days of driving all over Dallas looking for an open, clean, affordable laundromat for your Texas-size load of laundry! Today we have some tips for laundry day to help get this task completed as efficiently and quickly as possible.
Stain, Stain, Go Away
Print out a basic stain removal guide and hang it by your washer; that way you will have the solution you need for stains where you need it when you need it. For a more in-depth stain removal information refer to this Stain Solutions Guide, put out by the University of Illinois' Extension Office.
Go white — use all white towels for the bathroom, they can be washed as one load, and when necessary they can be bleached.
To whiten yellowed Items made from cotton or linen — use salt and baking soda. Mix ¼ cup salt, ¼ cup baking soda, and one gallon of water in a large cooking pot. Add yellowed items and bring to a boil, reduce heat to a simmer, and simmer for one hour. Then wash as usual.
Wash-n-Dry
Wash dark colors inside out to help stop them from fading. Zip zippers and fasten buttons to prevent them from catching on other items.
Keep a whiteboard by your washer and as you load the laundry make a note of anything that can't go in the dryer which makes it easy to pull the items out when you switch loads.
Drying Shoes
1)Tie the shoestrings of a pair of shoes together into a loose knot.
2)Close the dryer door with the shoes hanging on the inside and the knot on the outside.
3)Run dryer on low heat until shoes are dry
Random Tips
To keep hampers smelling fresh: Fill a knee-high (or cut off) nylon with baking soda. Know the open end and hang inside the hamper to absorb odor eater; replace about once a month or as needed.
Keep Socks Matched — use a mesh laundry bag for each member of the family; then fill the bag with their socks; wash, dry, return the bag to each person. No more lost socks! Find the tutorial on how to do this here.
Your flat iron works well to iron cuffs and collars for your shirt in a pinch. It also works well to iron ties on aprons, blouses, or dresses.
And there you have it, some laundry day tips! What are your favorite time-saving tips for getting laundry done? Please share in the comments, and thanks for reading today's blog post.